Ok, so you girls want to have some fun and win prizes? Get to know the Who's That Girl Design Team… We would LOVE to get to know YOU! START THE HOP HERE @
THE WHO'S THAT GIRL CHALLENGE BLOG
, then hop along to each team member's blog to see their wonderful takes on our VERY FIRST CHALLENGE! Our first challenge for 2010 is One Word. But not just any word, we want to know the word that describes who you are as a person. For this challenge pick a word that tells who you are and what you are all about! Here is my layout for this challenge!
My word is "optimist" and I had a lot of fun creating this layout! For this, I used Bazzill cardstock for my base, then over that I placed some Basic Grey lace paper. Over that, I sprayed a little Maya Mist to add some depth, then I repurposed some corrugated cardboard - using a template to trace and cut flower shapes, then spraying them with Maya Mist. The title was made with some dark cardstock, sprayed with Maya Mist, then I rubbed some white ink over it to make my Basic Grey letters stand out a bit. I sprayed yet more Maya Mist over some paper lace ribbon, then layered some sheer red ribbon over the top of that, added a Maya Road chipboard accent, and stitched around the main area...
1. One lucky person who leaves a comment on all of our blogs in the DT blog hop will win this collection of goodies: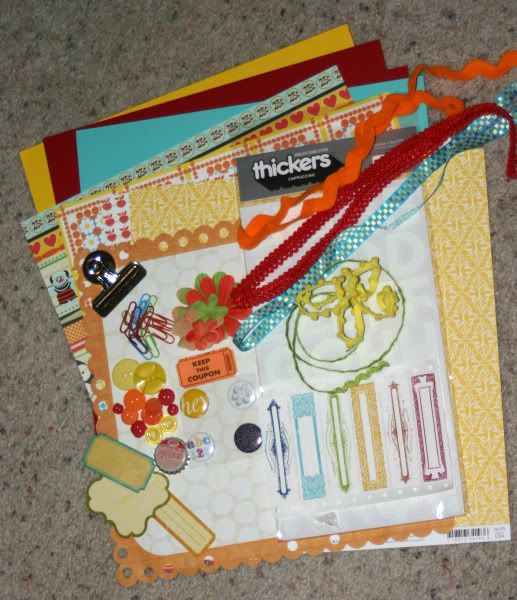 2. One person who does the challenge and posts in the Flickr group will win this collection of goodies:
Next, hop on over and check out
Who's That Girl!
ENJOY!